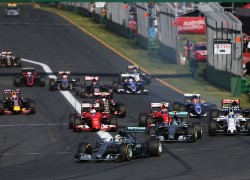 The 2016 Formula 1 curtain raiser is finally upon us. Round one of the Formula 1 World Championship will get underway in Melbourne, Australia for the Australian Grand Prix.
With testing done and dusted and with a few interesting observations that came out of it, the season ahead looks set to be a close one between Mercedes and Ferrari. But as we have seen many time in F1, what happens in testing is just that, testing. The real battle is on the track and it is expected that Mercedes will once again be ahead of the field.
Mercedes have worked very hard during the off season and by looking at the raw testing data it does seem as if they are in a very good position going into the season. But while Mercedes have been working hard, other teams have been doubling their efforts. Ferrari emerged as the closest contender to Mercedes during testing and they look to be in a similar position as in 2015 only a little closer to Mercedes. They are quietly confident that they can take the fight to Mercedes this season.
Mercedes and Red Bull are not far behind Ferrari and will be waiting in the wings and will pounce on any mistakes made by the Scuderia.
The midfield looks to be even more competitive this season than last year. McLaren look like they are ahead of their engine issues that plagued them last year while Force India have carried the momentum from the great from they were in last season. New entrant Haas F1 are looking to fight in the mid field. If testing is anything to go by they are going to have a tough time. This is a learning season for them and they can only get better from here. Their close partnership with Ferrari also puts them in somewhat of a good position.
The race will start in the late afternoon to make it favorable for the folks up in Europe. The practice sessions will be at a very early hour for most. Although there is nothing like a bit of Formula 1 to enjoy with your morning coffee.
| | | | | |
| --- | --- | --- | --- | --- |
| Session | Day | Local Time | GMT | GMT+2 |
| Free Practice 1 | Friday | 12:30 | 01:30 | 03:30 |
| Free Practice 2 | Friday | 16:30 | 05:30 | 07:30 |
| Free Practice 3 | Saturday | 14:00 | 03:00 | 05:00 |
| Qualifying | Saturday | 17:00 | 06:00 | 08:00 |
| Race | Sunday | 16:00 | 09:00 | 07:00 |