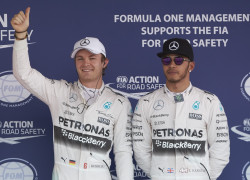 Nico Rosberg bounced back from his US grand prix disappointment today by secured his fourth straight pole position after topping the timesheets of the qualifying session ahead the Mexican Grand Prix.
Rosberg set an initial time of 1:20.120 and then lowered his benchmark to a 1:19.480 with nobody able to improve on the final Q3 lap.
In the end, Rosberg's time was 0.188s faster than his Mercedes team mate Lewis Hamilton with the two securing yet another front-low lock-out for the team.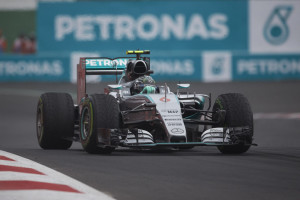 Rosberg seems to have left Austin and the lost championship title behind, and revealed his pleasure at securing the Mexican Grand Prix pole position. "I'm quite pleased with the first half of the weekend," said Rosberg. "I have to thank my engineers because we nailed the set-up and I felt great in the car."
Hamilton was very relaxed about losing out on the pole position, clearly not allowing too much space for Rosberg to get too comfortable psychologically. Hamilton says he thinks that the long run down to Turn 1 makes second on the grid better than pole position for tomorrow's Mexican Grand Prix. "It's actually the best spot to start, second or third, because there's a long way down to Turn 1 like Russia – I think it's longer than Russia," Hamilton said. "I'm happy with my spot. The races have always proved to be quite good ones for me so I'm excited for tomorrow."
Though he did briefly hold provisional pole in Q3 before Rosberg's second lap on the soft tyre, Hamilton admitted that rosberg did a better job on the day but was quick to add that his set-up is more geared for the race.
Sebastian Vettel finished the qualifying session third fastest in his Ferrari, beating Red Bull's Daniil Kvyat and Daniel Ricciardo.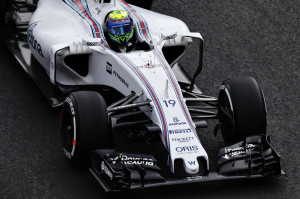 The Williams F1 team took up sixth and seventh positions with Valtteri Bottas finishing ahead of team mate Felipe Massa. Massa clocked the highest top speed of the 2015 F1 season during qualifying, reaching a peak of 364.3km/h during Q1.
The altitude of the Autódromo Hermanos Rodríguez – over 2,200 metres high – means that drag and downforce is reduced due to only 78 per cent of the oxygen being available compared to sea level.
Top speeds are also aided by the medium-speed entry onto the pit straight, which is 1.2km in length and DRS-assisted.
Williams team mate Valtteri Bottas ranked up second on the list at 360.8km/h.
Max Verstappen hailed his qualifying session in Mexico as one of the top performances of his rookie Formula 1 year after grabbing eighth place on the grid. "It was one of the best to be honest," Verstappen said. "I mean it's not our favourite track and in the end, especially if you miss FP2 which is quite crucial to set up your car, we were struggling in FP3 to find the right balance. I think we managed to turn it around very quickly for qualifying and it was a bit of a thriller in Q2 with the last lap, I'm very happy I could put that one in.
"It was very tense. I saw I was three tenths down and so I was like 'don't f**k this one up". Then I managed to do it, so I was quite happy with that one."
Force India only sent Sergio Perez and Nico Hulkenberg out for the final moments of the Q3 qualifying session and the duo finished as the slowest of the runners in the session.
Carlos Sainz Jr. set the 11th quickest time for Toro Rosso and Lotus claimed 12th and 13th with Romain Grosjean beating team mate Pastor Maldonado.
Marcus Ericsson made it through to Q2 and set the 14th best qualifying time for Sauber while Kimi Raikkonen had a miserable day finishing in 15th place.
Having stopped on track during final practice, Raikkönen only returned to action in qualifying but spun at Turn 1, citing a brake problem with his car. Raikkonen will start ahead of only the McLaren drivers.
Fernando Alonso was 16th quickest but will drop to 19th due to an engine penalty, with Felipe Nasr finshing 17th for Sauber. Alexander Rossi again managed to out-qualify Manor Marussia team mate Will Stevens.
Jenson Button was not able to participate in qualifying due to a power unit problem that forced him out of the final practice session.
Button was set to start last even if he had participated in the session after having to take a 50 place grid penalty.