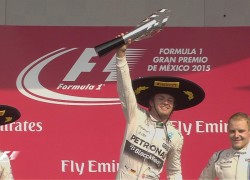 Full results of the 2015 Formula One Mexican GP.
Nico Rosberg managed to keep a cool head and at the same time keep Lewis Hamilton from his goal of winning the first Mexican GP on the new circuit. Despite Hamilton coming very close in the end, it was just not close enough to snatch the win away from the German.
Below are the Mexican GP results. Keep you eyes peeled for our race review.
| | | | | |
| --- | --- | --- | --- | --- |
| Pos | Driver | Team | Laps | Gap |
| 1 | Rosberg | Mercedes | 71 | 1h 42:35.038 |
| 2 | Hamilton | Mercedes | 71 | + 0:01.954 |
| 3 | Bottas | Williams | 71 | + 0:14.592 |
| 4 | Kvyat | Red Bull | 71 | + 0:16.572 |
| 5 | Ricciardo | Red Bull | 71 | + 0:19.682 |
| 6 | Massa | Williams | 71 | + 0:21.493 |
| 7 | Hulkenberg | Force India | 71 | + 0:25.860 |
| 8 | Perez | Force India | 71 | + 0:34.343 |
| 9 | Verstappen | Toro Rosso | 71 | + 0:35.229 |
| 10 | Grosjean | Lotus | 71 | + 0:37.934 |
| 11 | Maldonado | Lotus | 71 | + 0:38.538 |
| 12 | Ericsson | Sauber | 71 | + 0:40.180 |
| 13 | Sainz | Toro Rosso | 71 | + 0:48.772 |
| 14 | Button | McLaren | 71 | + 0:49.214 |
| 15 | Rossi | Marussia | 69 | + 2 Laps |
| 16 | Stevens | Marussia | 69 | + 2 Laps |
| | Nasr | Sauber | 57 | Brakes |
| | Vettel | Ferrari | 50 | Accident |
| | Raikkonen | Ferrari | 21 | Accident Damage |
| | Alonso | McLaren | 1 | MGU-H |