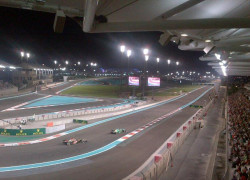 The final stop of the Formula 1 World Championship brings us to the Yas Marina Circuit in Abu Dhabi.
Last year the Abu Dhabi Grand Prix was the title decider which ultimately seen Mercedes Lewis Hamilton crowned World Champion. This year things are much different. Hamilton and Mercedes have the drivers and constructors championships all wrapped up. But there are still some fascinating battles out on track that keep us interested. The team mate battle in the mid-field teams will reach its climax in the race on Sunday.
The Red Bull pairing of Daniil Kvyat and Daniel Ricciardo are separated by 10 points while over at Force India a total of 16 points separates Sergio Perez and Nico Hulkenberg. The gap between the Toro Rosso drivers seems too big to close for Carlos Sainz and seems like Max Verstappen has won that battle.
The circuit on the other hand is known well to Pirelli who have conducted many tests over the years at the facility. The Italian tyre manufacturer has selected the red walled super soft and yellow walled soft compound tyres for the weekend. The smooth track surface and relatively low degradation around the Yas Marina circuit make the tyres and ideal choice and it forces teams into a two stop strategy.
The first two sectors around the track are relatively high speed sectors with a few chicanes and one low speed hairpin. The third sector is characterised by slow to medium speed corners which will require the mechanical grip provided by the tyres to get the power down. Pirelli are expecting a performance gap between 1.0 and 1.2s between the two compounds.
The weather in Abu Dhabi us about as predictable as a Mercedes podium finish. The weather this weekend will remain sunny and warm with no chance of rain throughout the weekend. With the race taking place in the early evening, the temperatures will drop to the low 20's but things will still remain relatively warm.