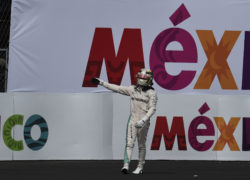 A crowd of nearly one hundred thousand fans looked on as Lewis Hamilton secured his first victory in Mexico and the 59th of this grand prix career.
For the Mercedes driver the 71 laps around the Autodromo Hermanos Rodriguez went exactly to plan. Despite a bit of a messy start he was able to control proceedings and notch up a second win in seven days. It was a vintage Hamilton weekend in many respects. He dominated from the first session on Friday, through qualifying and never came under pressure in the race. For his part he did all he needed to keep his championship hopes alive. Nevertheless, Nico Rosberg finished an omnipresent second to maintain his points advantage. He didn't sail through to second though and had to withstand a few dicey moments with Max Verstappen and the start and later on in the race.
Most of the drama was reserved for the battle between the two Red Bull's of Max Verstappen and Daniel Ricciardo and the Ferrari of Sebastian Vettel. For the majority of the race Verstappen was running third and extolling pressure on Rosberg for second. Aussie driver Daniel Ricciardo opted for alternate strategy by taking a second tour through the pitlane and emerging with soft tyres for his final stint. This promoted Vettel into fourth and onto the gearbox of Verstappen. Under significant pressure from the Ferrari driver Verstappen took the grass in order to maintain his position. The fact that the Dutchman gained an advantage by doing so was evident however he did not cede the position. This refusal from Verstappen didn't settle well in the paddock where is already facing backlash for his debatable technique.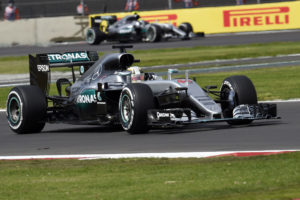 There is no question that Vettel's drive was a good one but it was soured by his foul-mouthed tirade over the radio. While well within his right to be upset with Verstappen he profanity-laced rants were shocking and unacceptable. While not an excuse by any stretch of the imagination his exaggerated reaction is telling and reveals the effect and pressure that a subpar season has exacted on him.
Subsequently, Verstappen was, rightly, slapped with a five second penalty for leaving the track and gaining an advantage. This promoted Vettel to third but a few laters this too would be undone as he was given a ten second time penalty for erratic driving in defense of his position. The rejigging of the order promoted Daniel Ricciardo to third with Verstappen fourth and Vettel in fifth.
The other Ferrari of Kimi Raikkonen came home in sixth with what could only be described as a odd pit stop strategy. The Finn was holding his own ahead of teammate Vettel on the medium tyre when he was called into for a second stop. The strategy call from Ferrari, who have had their fair share of dubious calls this season, made little sense as several other drivers, including Vettel, ran the race on one stop.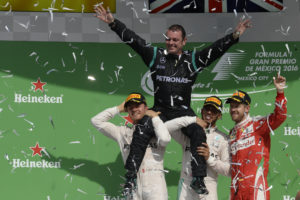 The Force India of Nico Hulkenberg finished seventh ahead of Williams' Valtteri Bottas in eighth and Felipe Massa in ninth. Local  hero Sergio Perez was embroiled in a race-long battle with Massa but his inability to overtake the Williams consigned him to tenth. Sauber's Marcus Ericsson deserves an honourable mention for his eleventh place finish in what has been a dire season for the Swiss-based team.
While Hamilton didn't face any pressure from behind there were some concerns on his car. An overheating turbo and sky rocketing exhaust temperatures had the team a bit nervous and eager to avoid any sort of failure. As a result Hamilton was instructed to tune down his power unit performance towards the end of the race. It didn't cost the reigning champion anything who has now closed to within nineteen points of Rosberg with two rounds of the 2016 season to go.